alumni reflections
If you are interested in reflecting and commenting on your experience at CGP, please email Catherine M. Raddatz with comments and a photo.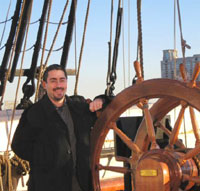 John Pentangelo '05
"CGP gave me the opportunity and support to become whatever kind of museum professional I wanted to be. I learned from remarkable professionals inside and outside of the classroom, worked on several exhibitions from planning to installation, developed and implemented educational programs for different audiences, and performed curatorial work with incredible artifact collections. More than that, I was challenged to make a difference. As curator of the USS Constellation Museum I use the skills and knowledge I obtained to not just help preserve an important part of our history but to help others understand why it is worth preserving. It's the best part of working in museums."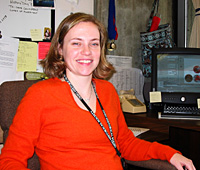 Megan Wood '05
"After two years at CGP and a year of work at NYSHA as the Manager of Statewide Programs, I was able to move back to the midwest to work for the Ohio Historical Society as the State Coordinator for National History Day in Ohio. My time and experiences at CGP really prepared me for the big and diverse world of museums. And everwhere I go, I meet fellow alumni. Next to the education, the network of professionals that CGP has provided me is priceless."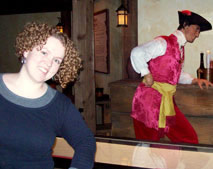 Anna Huntley '07
"Cooperstown Graduate Program's focus on teamwork and class projects prepared me for the leadership role I have today." Anna Huntley is the Exhibition Project Manager at The Field Museum. Her job as Project Manager is to keep everything moving on time, budget and facilitate teamwork and communication. In addition to managing the exhibition team, Anna is the point person for all exhibition-related information for the rest of the museum, coordinating with Marketing, Education, Museum Stores, and other departments. When the exhibition opens to the public, she is the public face of the exhibition doing interviews with media and giving public talks and tours. Her current projects include continuing updates on our current halls such as Evolving Planet, the DNA Laboratory, a renovation of the Grainger Hall of Gems (opening Fall 2009), the temporary exhibition The Nature of Diamonds (opening Fall 2009), and a new hall on Conservation and Biodiversity (scheduled for spring 2011).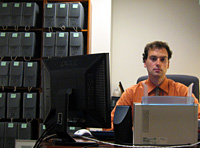 Ryan Donaldson '07
"The Cooperstown Graduate Program (CGP) furnished me with a robust skill set and broad range of professional experiences. As a class, we coordinated large projects with local museums and historical societies. I became acquainted with producing both collections and furnishing plans, developing educational curriculum, and fabricating an exhibit on the bicentennial of Cooperstown's incorporation. Now, as Archivist with the Durst Organization, a real estate development company in New York City, I apply many of the skills I was fortunate enough to gain thanks to my exceptional professors, NYSHA staff, and fellow students."
Kiernan Lannon '06
"I cannot imagine that there is another program that affords its students the diverse classes and experiences that CGP offers. The dedicated faculty and staff challenged each of us with projects that held real world implications. From planning projects to education projects to exhibit projects, I gained hard-earned experience at such impressive places as the USS Constitution Museum, The Farmers' Museum, NYSHA, and the Amherst Museum. The icing on the Program's cake is the impressively knowledgeable and good-humored staff and faculty. This is a group of teachers and instructors who would consistently invest more than their fair share of time and energy in my classmates and I resulting in a wonderful environment in which to learn. In the end, I am confidant that I gained the tools- including knowledge, a diverse skill set, and a network of alums typically very willing to lend their advice- I will need to handle almost anything the museum world brings my way."