the priority of preservation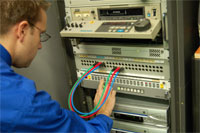 As these recordings are made available digitally, we can hear how diligently the CGP faculty and students recorded concerts, music and heritage festivals, ethnic celebrations, and seminars. We can appreciate how CGP students journeyed along the East Coast, Midwest, and even the rural South in a quest to preserve what Dr. Louis C. Jones, co-founder and longtime CGP director, referred to as "fragile history." Dr. Jones noted in an interview how the absence of audio recorders was one of the "great weaknesses" of his archive along with his mentor Professor Harold W. Thompson's archive.
Jones therefore secured the necessary resources and support from NYSHA to ensure Cooperstown as a viable site for this experimental multimedia curriculum. To assure success, Jones recruited Bruce Redfern Buckley. Dr. Buckley received his Ph.D. in 1962 from the Indiana University folklore program. In the late 1950s he narrated, shot, and provided soundtracks for educational films produced by the Indiana University's Audio-Visual Center. Buckley also performed ballads and folk songs, releasing albums on the Folkaways label. Along with Joe Hickerson, Ellen Stekert, and Bob Black, Buckley played live shows as The Settlers.
exploring the built environment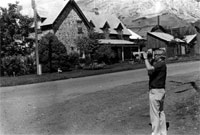 Jones and Buckley organized a stellar staff that included: Frederick L. Rath, Jr., vice director of NYSHA and the first director of the National Trust for Historic Preservation; Frank Spinney, CGP's Professor of History Museums, and past president of Old Sturbridge Village; and Per Guldbeck, a popular professor previously employed by the Museum of International Folk Art in Santa Fe, New Mexico, who taught conservation and folk technology at CGP.
Another key personnel addition was the noted photographer Milo V. Stewart, who graduated from CGP in 1971 and led NYSHA's education department. Later, Minor Wine Thomas, the chief curator for the Farmers' Museum and Fenimore Art Museum and NYSHA director from 1975 to 1982, joined the faculty, along with Roderick Roberts, a literature and folklore professor who received his master's degree from Indiana University and shared Buckley's passion for documentation.