The Cooperstown Graduate Program (CGP) is the premier program for the training of museum professionals in the United States. One of only two programs in the country located on a museum campus rather than a university campus, students have the opportunity to interact regularly with museum professional staff, with objects, and with exhibitions.
Mission
The Cooperstown Graduate Program trains creative, entrepreneurial museum leaders committed to generating programs and services for the public good.
highlights of the program
Why choose CGP?
Institute for Cultural Entrepreneurship for Museum Leaders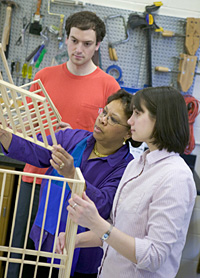 latest news
For the lastest CGA Forum, the CGP newsletter, click here
ArtPlace, a collaboration of 13 leading national and regional foundations, has selected the Cooperstown Graduate Program (State University of New York, SUNY Oneonta) as a finalist for its 2013 round of funding. Out of more than 1,200 letters of inquiry, our project, Landscape as Backdrop: A Rural Arts Collaboration (LAB) has been selected to submit a full grant proposal later this month. As the debate over gas extraction in upstate New York heats up, several central New York arts organizations and businesses have joined to develop linked programs to enable residents and visitors to more fully experience our rural setting from a cultural perspective.CGP, along with a consortium of world class and grassroots arts organizations located in the central upstate New York region, in partnership with the regional land trust and local tourism agency, hope to design, produce and market unified programming to re-define our rural community as an environment in which art and history are presented in the context of our physical setting.