SEB LAUNCHES THE FIRST STUDENT-MANAGED INVESTMENT PORTFOLIO
---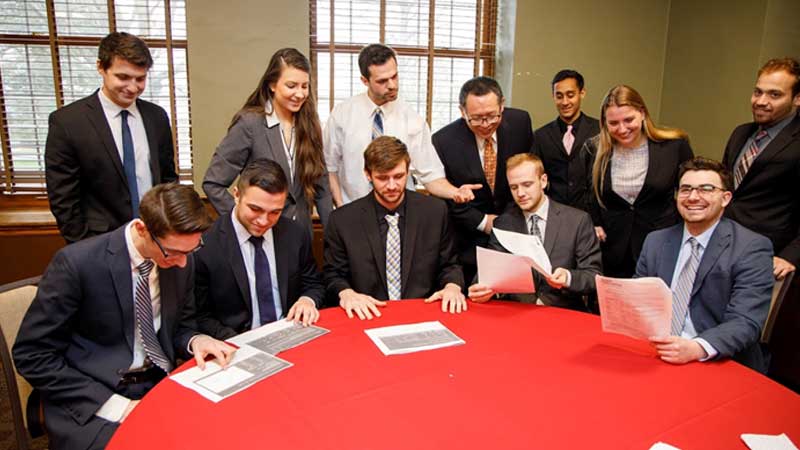 Students from the Portfolio Management class review their investment proposals with Dr. Chen
A gift from Kent Newhart '77 to the School of Economics and Business provides students in Dr. Kai Chen's Portfolio Management class with the opportunity to apply what they have learned by managing a small account of the SUNY College at Oneonta Foundation's assets. The project concept inspired College Foundation Finance Committee member Stan Nosek '69 to make a gift to further supplement the funds under management by the students.
Since 2006, as part of a simulation exercise, students have evaluated the performance of mutual funds held by the College Foundation and made recommendations about buying, selling or holding these assets. The creation of the student-managed portfolio reaches a new level of engagement, motivation and learning for the students. The SEB's Bloomberg Terminals will see increased applied use by the students as they collect data, analyze, and track investments.
Three teams of students from the Portfolio Management class researched and proposed portfolios to the College Foundation's Investment Subcommittee. The committee approved investments in the proposed portfolio that it judged to be the best.
Participating students were Jared Ciccarelli, Nicole Lapinski, Kiran Narsipur, Joseph D'Orazio, Aaron Amato, Tyler Bates, Francesca Giannetta, Phil Gajdorus, Brian Primm, Edward Cosgrove, Odalis Galeano and Seamus McHugh. The team of Brian Primm, Edward Cosgrove, Odalis Galeano and Seamus McHugh submitted the winning portfolio.
The student-managed funds follow the existing investment policies, approval process and transaction processes of the College Foundation. The investment returns of the student-managed portfolio are proposed to be retained in the portfolio or expended for purposes that are consistent with the Newhart Fund.